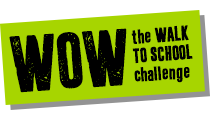 The Eco Committee has 2 representatives each from Fl. 2, 3, 4 and 5 and 4 representatives from Year 6. Last year's theme was 'Healthy Travel' and began on 'Improving the school grounds and the local area'.
Every morning, Mynydd Bychan pupils – from Reception to Year 6 – record how they traveled to school in order to earn a new badge each month. The badges are made out of recycled yoghurt pots! The Eco Committee encourages children from all classes to try to walk, cycle, scooter or park and walk at least 3 times a week and we've seen fantastic results!
The Eco Committee have also busy discussing which trees to plant in our small school, discussing with Coed Cymru to learn which type of trees and plants are best suited. The intention is to plant more on the school grounds in order to add to our ivy walls.
Every year, members of the Eco Committee fill in an 'energy heroes' questionnaire to ensure that all classes try their best to save energy during the day. They switch off the lights if they are on unnecessarily, switch off the interactive screen if it is not in use and also ensure that each class recycles correctly.
Members of the Eco Committee 2022-2023:
Year 6: Owen, Daniel, Dewydd and Elin
Year 5: Sofia and Ben
Year 4: Betsan and Freddie
Year 3: Lilwen and Rhys.L
Year 2: Arlo and Alys